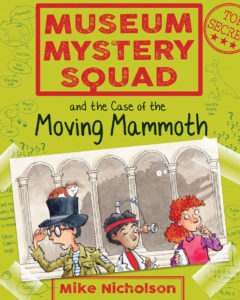 The Museum Mystery Squad series so far has  fourpeculiar and puzzling cases to solve: The Case of the Moving Mammoth, The Case of the Hidden Hieroglyphics, The Case of the Curious Coins and The Case of the Roman Riddle. These early reader books aimed at 6-8 year olds are also being enjoyed by older readers. The stories involve young investigators (and their hamster Colin) being given a mystery to solve by Museum Director Magda Gaskar.
Why is the mammoth moving at night? What does the newly discovered hieroglyphic mean? Why are coins scattered on the floor? Why is there smoke coming from a gladiator helmet?! Who is up to no good? Why does Gus the security guard tell such bad jokes? Can a hamster really be a helpful member of a mystery solving squad? There's only one way to find out the answers. Go to the museum…or read the books.
Museum Mystery Squad – The Case of the Hidden Hieroglyphics – shortlisted in the 2018 Teach Primary Book Awards which recognise books that children genuinely love to read, and that support learning – for example, by opening up topics for discussion; encouraging language play; and making innovative use of illustration. This book is among 21 shortlisted titles which "can be confidently recommended to pupils by teachers, and lend themselves brilliantly to classroom activities, too".
'… a satisfying book. The characters are unique, intelligent, and likable. The museum setting is exciting and fun. The mystery itself is solvable by young readers without being obvious. There is also plenty of humour… This is an excellent and refreshing new mystery series for young readers.' Manhattan Book Review   (Case of the Moving Mammoth)
'This is a fast–paced and entertaining story… all in all, very enjoyable, with a surprising, and explosive, ending.' Carousel    (Case of the Moving Mammoth)
The Giant Who Snored 
– published in summer 2017 this rhyming picture book is a new take on an old style of tale. The friendly giant falls asleep beside the town and starts snoring….VERY LOUDLY!  There's chaos! Who will be the one to wake him up…and how?
There are two downloadable songs to accompany the book – fun ways on how to stop a snorer, and a lullaby guaranteed to get your eyelids drooping.
Thistle Street, Thistle Sands and Thistle Games are rhyming picture books for the under 6s.
Thistle Street is the perfect introduction to Scottish words like fankle, clarty, stramash and stushie, as characters blether away and end up in all sorts of situations. So get yourself up from your chair, give yourself a shoogle, and have a wee daunder down Thistle Street.
Join characters on
Thistle Sands
as they have a day at the beach. Some are peely
wally, some end up looking glaikit and getting mawkit, and some poor soul ends up on their bahookie! It makes you want to greet, but it's so much fun learning these words it's guaranteed you'll end up doing a birl!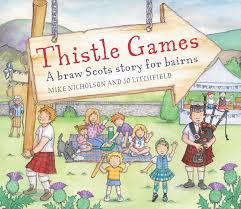 Thistle Games
is here, the event of the year! It's time for celebrations and competition;  watch out for the dour judges, don't end up a numpty, and be careful or you'll end up in a stookie! Someone is havering at the games and someone else is being sleekit….whether you dance, run or toss the caber, make sure you gie it laldy!
'My nine and six-year old loved Thistle Sands, a title pitched at younger children – but the desire to learn the Scots for bottom is, apparently, ageless. That, while reading it aloud, they sounded like Arnold Schwarzenegger trying to do a Lossiemouth accent only added to the allure of the tale of seaside japes. The illustrations reminded me of Michael Rosen's We're Going on a Bear Hunt. More crucially, we all learnt the Scots for exhausted (wabbit), and cry (greet). Key words for children, parents — and politicians — on each side of the Border'The Times
'Children, both in Scotland and further afield, will love the detailed illustrations as well as appreciating the interesting new Scots words they will have added to their vocabulary.'
Cornerstone Bookshop
"Thistle Street' sells itself as a "braw Scots story for bairns". And so it is! Mike Nicholson's tale of the happenings in a Scottish village is designed to introduce some Scots vocabulary to young readers. Told in rhyme, each page uses a Scots word and Claire Keay's illustrations to ensure that its meaning is clear to everyone. The book creates a warm sense of a bustling community with its friendly words and dynamic pictures.' The Scotsman
'What a terrific way to learn a few strange sounding Scottish terms! It is like learning a whole new language. If you want to know what 'Daunder', 'Blether', 'Stushie' and 'Braw' mean, in a fun-filled story based in a typical Sottish village, then this book is ideal for you.'  Early Years Educator
'What's lovely about this is that the language introduces fantastic Scots words like stushie and clarty and crabbit … the value of having a book that celebrates these wonderful words is something special and the simple drawings are easy to follow.' Lothian Life
*******************************************************************************************************************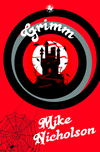 If you have the misfortune to spend a night at Hotel Grimm, it may be the last one you spend anywhere! Or so the residents of Aberfintry believe. From its vantage point high above the town, the hotel has long been the source of dead guests and terrifying stories. When eleven-year-old Rory McKenna becomes an overnight advertising sensation for Zizz Cola, Hotel Grimm's mysterious owner, Granville Grimm, presents Rory with the task of giving his hotel a new image. Refusal is not an option…
Can 'Zizz Boy' do it again, or will he become Hotel Grimm's next victim? Full of unexpected twists and turns, surprising allies and things that go bump in the night, Rory's life is about to get very complicated.
Grimm is a humorous adventure story set in the fictional town of Aberfintry, located roughly in Scotland's Trossachs region.
Buy Grimm here

Reviews of Grimm
'Mysteries abound, strands are revealed and pursued and past and present merge as a wonderfully complex jigsaw of a plot is resolved with striking pace and panache. A splendidly complex puzzle with grand characters hovering  between fantasy and reality but with feet firmly rooted in relationships and loyalties makes for a good read for both boys and girls in the 10+ range' School Librarian Journal
'A classic story of a haunted hotel with a modern twist…frightening and intriguing, but with a humorous side' Edinburgh Evening News
'A real boys-own adventure story' Greenock Telegraph
'A humorous adventure story to delight younger readers'The Scots Magazine
'A tale full of mystery and fun…accomplished readers will enjoy it'Armadillo Magazine
Comments from Grimm's readers:
Absolutely gripping….I couldn't put it down AM (age 11)
The twists and turns keep you guessing…the humour and entertaining characters will appeal to all ages TF
*******************************************************************************************************************
Fergus can't believe it when his brand-new digital watch starts going backwards. Then he crashes (literally) into gadget-loving Murdo and a second mystery comes to light: cats are going missing all over the neighbourhood.
Catscape won the Kelpies Prize 2005. Sharply and wittily observed, it's a story of unlikely friendships, unexpected allies and cat surveillance, set in Comely Bank, Edinburgh.
Reviews of Catscape
'A well-paced, entirely convincing mystery story, full of suspense, wit and unexpected twists and turns. Beautifully written in a clear accessible style…it is an excellent gripping yarn…' School Librarian Journal
'This delightful  whimsical story will appeal to children of all ages. It is well written without being condescending, and the plot is unusual and quite gripping.'  Stockbridge and New Town Independent
'A ripping yarn and beautifully plotted. A real boys-own adventure story.'  Catherine Forde
'Here we have villainy and sleuthing rampant in the douce environs of Comely Bank, Orchard Brae and Stockbridge. This is deepest Rebus territory, but Mike Nicholson does not offer young readers an exploration of the heart of Edinburgh's darkness. On the contrary, the story is a daft, high spirited romp…'   Association of Scottish Literary Studies
*******************************************************************************************************************