2019…January – July…a whistle stop tour.
The year kicked off with events at James Gillespie's Primary School's Scots Fortnight and at South Morningside (Nursery and Infants), where we got in a fankle and tried not to get crabbit as we learned Scots words using the Thistle Books.
Next up saw a February tour of 7 primary schools in north west Scotland where we took objects from Gairloch Heritage Museum into schools to spark off mystery story writing.
In March there was a flurry of action with the Wee Write Children's Book Festival in Glasgow and World Book Day at Hutcheson's Junior School.  Meanwhile schools in Shrewsbury had done stacks of brilliant writing, arts and baking (!) work based on Catscape, Museum Mystery Squad and The Giant Who Snored in advance of the Book Festival events there. While Todholm Primary School in Paisley erected tents in their playground for their very own annual book festival with children of all ages enjoying stories. The month finished with 300 P4/5s at ESMS Junior School trying to solve the Case of the Vanishing Viking…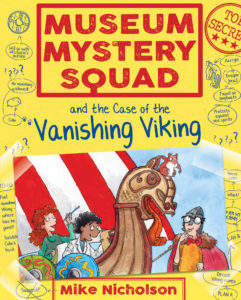 There's lots more fun to be had in the months ahead with the Museum Mystery Squad and watch this 'space' as a new mystery is unfolding…
there's a big clue there.
Coming up to the summer Cargilfield School's Book Festival was another highlight, along with the West Lothian Schools Book Festival. As other events begin to pepper the diary for the rest of the year, I've also been working away on two possible picture books and an idea for a new novel as well so there are hopefully new stories on their way.
I've continued with writing commissions such as meeting a group of young mums at Citadel Youth Centre as part of Children in Scotland's 'Heritage Hunters' Project. The group's own story of life as a young single mum was published in June. It's called 'Every Day is a New Day".
Coming up in mid August is the Edinburgh International Book Festival and then the autumn school terms will see new work with the pupils at Towerbank Primary School, Portobello in Edinburgh where I'll be author-in-residence for a few months as the school look to grow interest in reading and writing through their brand new 'Library Next to the Sea'.
There have also been a range of consultancy commissions, most recently working on some evaluations of services – looking at  mentoring support for young people and mental health support for people in rural communities. I've also been facilitating workshops, and supporting some small charities in researching funders, writing fundraising proposals and for other others in looking at how they can be more effective in the communities they are based in.