2018…the last few weeks are speeding away….
There have been many highlights beginning with James Gillespie's Primary School's Scots Fortnight, where we had fun with the Scots words using the Thistle Books, and even managed to create a new tough tonguetwister 'Dougal Googled Shoogle' (try it!).
Then there was a big sleep with 180 children when 'The Giant Who Snored' visited Edinburgh Academy, a World Book Day dash around the country, and Wee Write! – Glasgow's Book Festival for Children and Young People, with the Museum Mystery Squad heading west to pitch their puzzling cases to people.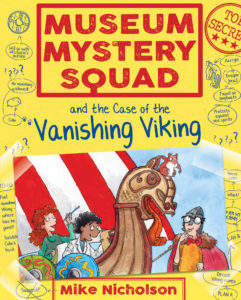 At this time the exciting news came through that the Squad's 'Case of the Hidden Hieroglyphics' was shortlisted in the Teach Primary Book Awards (Key Stage 1, 5-7).
After this the launch of 'The Case of the Roman Riddle' took place twice on the same day at Kinneill House Museum, Boness, and at Waterstones, West End, Edinburgh before the first 'Roman' event at the Eboracum Festival in York.
Summer saw the annual story writing week working with families at The Haven, Circle Scotland. We've written 5 books in 5 summers! I'm looking forward to No.6.
There were outings to the Borders Book Festival, Edinburgh International Book Festival, Islay Book Festival, Imprint Book Festival (Kilmarnock) amongst others….now it's time for a strange disappearance…the Case of the Vanishing Viking to be launched in mid November. That building really is stuffed full of mysteries! There will be more to come….watch this 'space' (there's a clue)…
Book Week Scotland is set to be packed with events; the National Museum of Scotland, primary schools at Carrick Knowe & Mid Calder, the Families Outside conference and the launch of our summer story at Circle Scotland.
Oh and I nearly forgot about some very short stories written earlier this year…5 Minute Mysteries, which you can hear on some of the excellent Sonic Snackbox programmes (BBC Radio Scotland). These are full of fun and facts for 1st Level Primary School pupils.
Alongside the writing, I've continued with consultancy work, most recently working on some evaluations of services – looking at the support young people need to make steps towards study and employment, mentoring support for young people and mental health support for people in rural communities. I've also been facilitating workshops and strategy days, and supporting some small charities in researching funders, writing fundraising proposals and for other others in looking at how they can be more effective in the communities they are based in.