The weeks are flying by in 2018 already!
The year began with James Gillespie's Primary School's Scots Fortnight, where we had fun with the Scots words using the Thistle Books, and even managed to create a new tough tonguetwister 'Dougal Googled Shoogle' (try it!).
Then there was a big sleep with 180 children when 'The Giant Who Snored' visited Edinburgh Academy, a World Book Day dash around the country, and Wee Write! – Glasgow's Book Festival for Children and Young People, with the Museum Mystery Squad heading west to pitch their puzzling cases to people.
At this time the exciting news came through that the Squad's 'Case of the Hidden Hieroglyphics' has been shortlisted in the Teach Primary Book Awards (Key Stage 1, 5-7).
2018 will see two more mysteries for the Squad to grapple with…
The Case of the Roman Riddle will unravel at the end of April and the autumn is the time for a strange disappearance… in the Case of the Vanishing Viking. That building really is stuffed full of mysteries! There will be more to come….
In recent months I've also been working on some much shorter mysteries….5 minute ones…broadcast on BBC Schools Radio as part of their 'Sonic Snackbox' a great online programme for schools and for 6-8 year olds.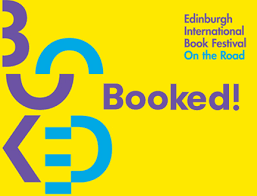 My highlights last year included working in Cumbernauld with Edinburgh International Book Festival's Booked! Programme. Writing stories with some truly imaginative children from Kildrum, Carbrain, St Margaret of Scotland and St Mary's Primary Schools.  You can read more about this work here: 
'The Giant Who Snored' made its first appearance at Borders Book Festival and launched in Newhaven at a fun family event. It's a noisy book about being asleep and the search to find out who can wake a big snoozer from his slumbers?
Meanwhile in recent consultancy work I've been working on some evaluations of services – most recently finding out about the support young people need to make steps towards study and employment, and the support older people value when they have visual impairments. I've also been facilitating workshops and strategy days and supporting some small charities in researching funders and writing fundraising proposals.