Whoosh!!  2019…you're nearly gone! How did that happen?!
There's been a late flurry of fun, courtesy of Book Week Scotland and with thanks to the National Museum of Scotland, the 'read-ilicious' children's book festival at Peebles' Eastgate Theatre and Brunstane Primary School where there were packed events and fun with rhyming tales and creating mystery stories.
The autumn months have also seen loads of sessions at Towerbank Primary School in Portobello, where I've been lucky enough to have a residency, building on the interest in books created by their brand new 'Library Next to the Sea'. The children across the school have created some brilliant sea-inspired stories and shown that the next generation of writers and illustrators is in good shape.
I've loved being on my travels further afield too in 2019. In February I did a tour of 7 primary schools in north west Scotland where we took objects from Gairloch Heritage Museum into schools to spark off mystery story writing.  Meanwhile in March, schools around Shrewsbury had done stacks of brilliant writing, arts and baking (!) work based on Catscape, the Museum Mystery Squad and The Giant Who Snored in advance of the Book Festival events there. It was a fantastic example of a festival can inspire interest in reading and writing and give teachers great resources.
I've loved seeing other schools organising their own Book Festivals too; Todholm Primary School in Paisley erected tents as mini-venues in their playground in March for their annual book festival while pupils at Cargilfield School waited for warmer weather in June to get into costume for their in-house Book Festival.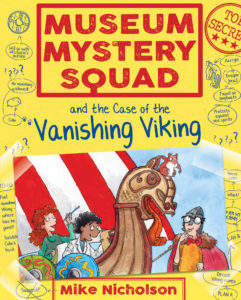 Still with a Festival theme, Wee Write, West Lothian Schools Book Festival and the Edinburgh International Book Festival all provided a fabulous focus on books and each got a dose of the Museum Mystery Squad in 2019.
I've continued with writing commissions such as meeting a group of young mums at Citadel Youth Centre as part of Children in Scotland's 'Heritage Hunters' Project. The group's own story of life as a young single mum was published in June. Seeing some of the mums read their story 'Every Day is a New Day' at a launch event was a highlight of the year.
I've been working away on a new novel this year and hope to complete that early in 2020.  The story involves the challenge of breaking into and back out of a prison…
Meanwhile there are more possible picture books in the pipeline…involving penguins, pipers, and dogs in space…as long as I can hunt down the ever-elusive time needed to complete them. And of course the Museum Mystery Squad will be making a return because the number of mysteries in a museum is countless!
Finally with my consultancy 'hat' on, 2019 has also seen a range of commissions, most recently working on some evaluations of services – looking at a parenting outreach project, support for older people in a rural community and volunteer-based support across the country for people living with dementia. I've also been facilitating workshops and trustee 'away day' events, supporting small charities in writing fundraising proposals and generally helping charities to consider  how they can be more effective in the communities they want to serve.
2020…let's see what you have to offer….