As 2023 warms up there are lots of things bubbling away … the 6th Museum Mystery Squad story, 'The Case from Outer Space', will be launched at Waterstone's, Princes Street, Edinburgh, on April 27th.
If ever there was a book that merited a countdown it's one about space! This year also will also see work on a re-launch of 'Grimm' – the hotel which nobody wants to visit but one boy has to, a book called 'Beasties' introducing Scots words for animals, developing a picture book based on a popular memory game, and a return to writing a novel for 8-12s – back where I began.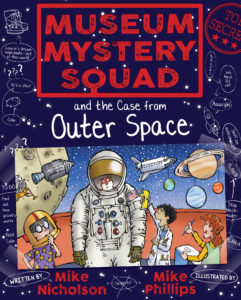 Book events are back up and running with recent ones at James Gillespie's Primary, Carradale and Drumlemble Primary Schools in Kintyre and Tranent Library with Saltoun Primary and there will be more to come soon. 
Finally, with my consultancy 'hat' on, I've been evaluating an older people's drop-in centre, a young people's and family support service and I'm part of a research team looking at the role of older people volunteering in faith communities around Scotland.