BOOKS FOR CHILDREN & OTHER WRITING PROJECTS
Mike's writing ranges from the nine children's books he has had published to short film scripts, stories for radio, recovery stories, fun and fact-filled school resources and creative writing projects with groups of children.
His most recent books are the first three in the Museum Mystery Squad series. Inspired by the National Museum of Scotland, along with his love of mystery stories, Dr Who and Scooby Doo, Mike has created a team of three children (plus their hamster Colin), who solve strange mysteries about museum exhibits. You'll find pacy plots, riddles to solve,  interactive puzzles along with some terrible jokes (courtesy of Gus the museum's security guard).
The background to writing for children goes back to an early job which Mike had. "Doing environmental projects with primary schools spurred me on to write stories for that age group. I realised that the process of creating stories and involving others in that was a real passion of mine."
The inspiration for Mike's first book was simple; a few lost cat posters on lampposts near the Edinburgh flat that he was living in. "I thought to myself, 'Why are so many cats going missing?' From that I wrote a single chapter of a story called 'The Databoys' for a BBC Talent competition. It was long-listed and the 'keep writing you nearly made it' letter encouraged me to complete the story." The finished book became 'Catscape' and won the Kelpies Prize in 2005.
'Grimm' is about an impossible challenge. "What if someone has no choice but to take the highly dangerous job of advertising the worst hotel in the world? And what if that person has their own secret that no-one knows about, and what if the decades-old stories about the hotel started to unravel and reveal the truth? I loved writing it and finding the answers to my own questions."
The idea for 'Grimm' came in the shower, and it was written in snatches in cafes, park benches, and even hospital waiting rooms after Mike broke his ankle. "I'd take one small idea and try to move it on in the few free minutes I had."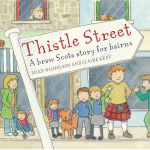 'Thistle Street' is a picture book for under 6s. "I love Scots words which get used in everyday language; dreich, blether, clarty, stramash and stushie. I wanted to find a way to introduce these words to children so they learned how to say them and what they meant." The book is a day in the life of a street in a Scottish seaside town, and through rhyme it introduces the meaning as people get in a fankle, give things a skelp, end up drookit and and even feel a bit crabbit. The first draft was written on a napkin in a café. Braw!
Two more books followed; 'Thistle Sands' and 'Thistle Games' where characters have a day at the beach (looking peely wally, getting mawkit and ending up on their bahookie!) and then going to the Highland Games (where people hirple and haver, cover their lugs and wear stookies!).  And of course, everyone is 'gieing it laldy'!
Mike's most recent picture book is 'The Giant Who Snored' – a rhyming tale of a potentially disastrous day for a town deafened by a snoring giant. Can anyone wake him up?
Mike's other creative exploits include taking part in a number of 48 Hour Film Challenge competitions where a 6 minute film is written, filmed and produced in 2 days. "I love being given a few random ideas and having to find a believable story to hold them all together." Working at speed like this inspired Mike's 'Write a Story in 60 Minute' sessions which he does in schools (see Events page)
He also does commissioned writing projects, such as 'My Diary' (a book for young people about having a family member in prison for Families Outside) (Available at: https://www.familiesoutside.org.uk/my-diary-2/ )and 'Edinburgh – City of Genius', a comic book for children which brings to life the Scottish Enlightenment in the 1700s (for Edinburgh World Heritage). Available here
Press relating to Mike and his writing:
Textualities Newsletter (Dec 2005): Writing Catscape                         

Edinburgh Evening News (September 2008)  At Home with Grimm Tale of Haunted House