BOOKS FOR CHILDREN & OTHER WRITING PROJECTS
Mike's writing ranges from the eleven children's books he has had published to short film scripts, stories for radio, recovery stories, fun and fact-filled school resources and creative writing projects with groups of children.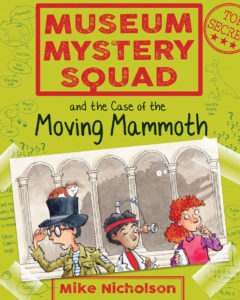 His most recent books are the six books in the Museum Mystery Squad series. Inspired by the National Museum of Scotland, and his love of mystery stories, Dr Who and Scooby Doo, Mike has created a team of three children (plus hamster Colin), who solve strange mysteries about museum exhibits. You'll find pacy plots, riddles to solve, interactive puzzles along with some terrible jokes.
The six peculiar and puzzling cases to solve so far are: The Case of the Moving Mammoth, The Case of the Hidden Hieroglyphics, The Case of the Curious Coins, The Case of the Roman Riddle, The Case of the Vanishing Viking and The Case from Outer Space…each time there's a mystery….
Why has the mammoth moved at night? What does the newly discovered hieroglyphic mean? Why are coins scattered on the floor? Why is ghostly green smoke coming from a gladiator helmet? Where has the Viking from the longship disappeared to? Who is threatening to steal an object from the Space Zone and what's valuable in there anyway?There's only one way to find out the answers and see who is up to no good….call the Museum Mystery Squad! Along with each mystery you'll encounter Gus the security guard and his incredibly bad jokes and find out if a hamster really be a helpful member of a mystery solving squad.
The characters are unique, intelligent, and likable. The museum setting is exciting and fun. The mystery itself is solvable by young readers without being obvious. There is also plenty of humour. This is an excellent and refreshing new mystery series for young readers. Manhattan Book Review (Case of the Moving Mammoth)
The inspiration for Mike's first book was simple; a few lost cat posters on lampposts near the Edinburgh flat that he was living in. "I thought to myself, 'Why are so many cats going missing?' From that I wrote a single chapter of a story called The Databoys for a BBC Talent competition. It was long-listed and the 'keep writing you nearly made it' letter encouraged me to complete the story. The finished book became 'Catscape' and won the Kelpies Prize in 2005. The book remains a favourite for many 8-12 year olds and is often used as a class text for P5-7s.
Catscape – a well-paced, entirely convincing mystery story, full of suspense, wit and unexpected twists and turns. Beautifully written in a clear accessible style. It is an excellent gripping yarn. School Librarian Journal
Grimm is about an impossible challenge of creating an advertising campaign for the worst hotel in the world. Mike says, "I had the idea of someone who has no choice but to take on a highly dangerous job with people and at a place that everyone feared. I then made the challenge even greater by giving that person their own secret that no-one knows about. It was great fun to write once the decades-old stories about the hotel started to unravel and reveal the truth about Hotel Grimm."
'Grimm – mysteries abound, strands are revealed and pursued and past and present merge as a wonderfully complex jigsaw of a plot is resolved with striking pace and panache. A splendidly complex puzzle with grand characters hovering between fantasy and reality but with feet firmly rooted in relationships and loyalties makes for a good read for both boys and girls in the 10+ range. School Librarian Journal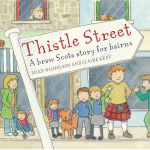 'Thistle Street' is a rhyming picture book for under 6s. Mike says, "I love Scots words which get used in everyday language; dreich, blether, clarty and stushie. I wanted to find a way to introduce these words to children so they learned what they meant and how to say them." The book is a day in the life of a street in a Scottish seaside town, where people get in a fankle, give things a skelp, end up drookit or feel a bit crabbit. The first draft was written on a napkin in a cafe. Braw!
"'Thistle Street' sells itself as a braw Scots story for bairns. And so it is! Mike Nicholson's tale of the happenings in a Scottish village is designed to introduce some Scots vocabulary to young readers. Told in rhyme, each page uses a Scots word and Claire Keay's illustrations to ensure that its meaning is clear to everyone. The book creates a warm sense of a bustling community with its friendly words and dynamic pictures." The Scotsman
˜What a terrific way to learn a few strange sounding Scottish terms! It is like learning a whole new language. If you want to know what daunder, blether, stushie and braw mean, in a fun-filled story based in a typical Sottish village, then this book is ideal for you." Early Years Educator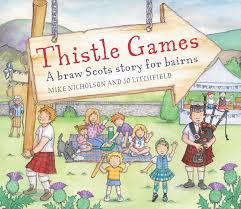 Two more 'Thistle' books followed; 'Thistle Sands' and 'Thistle Games' where characters have a day at the beach (looking peely wally, getting mawkit and ending up on their bahookie!) and then go to the Highland Games (where people hirple and haver, cover their lugs and wear stookies!). And of course, everyone is 'gieing it laldy'!
The Thistle books have proved popular in homes in Scotland as great stories for bedtimes and other times, and have been sent far afield as families with Scottish connections enjoy the link to the familiar words used. Lots of schools use the books as part of Scots language activities too.
Mike's most recent picture book is 'The Giant Who Snored' – a rhyming tale of a potentially disastrous day for a town deafened by a snoring giant. Can anyone wake him up? This is a rhyming tale plotting the efforts by the townsfolk to wake their giant friend.
Mike's other creative exploits include taking part in a number of 48 Hour Film Challenge competitions where a 6 minute film is written, filmed and produced in 2 days. "I love being given a few random ideas and having to find a believable story to hold them all together." Working at speed like this inspired Mike's 'Write a Story in 60 Minute' sessions which he does in schools (see Events page).
Mike has written '5 Minute Mysteries' and other stories for 6-8 year olds for Sonic Snackbox for BBC Radio Scotland.
He also does commissioned writing projects, such as 'My Diary' (a book for young people about having a family member in prison for Families Outside) (Available at: https://www.familiesoutside.org.uk/my-diary-2/)and 'Edinburgh – City of Genius', a comic book for children which brings to life the Scottish Enlightenment in the 1700s (for Edinburgh World Heritage). Available here